Historic San Antonio
Be Part of San Antonio History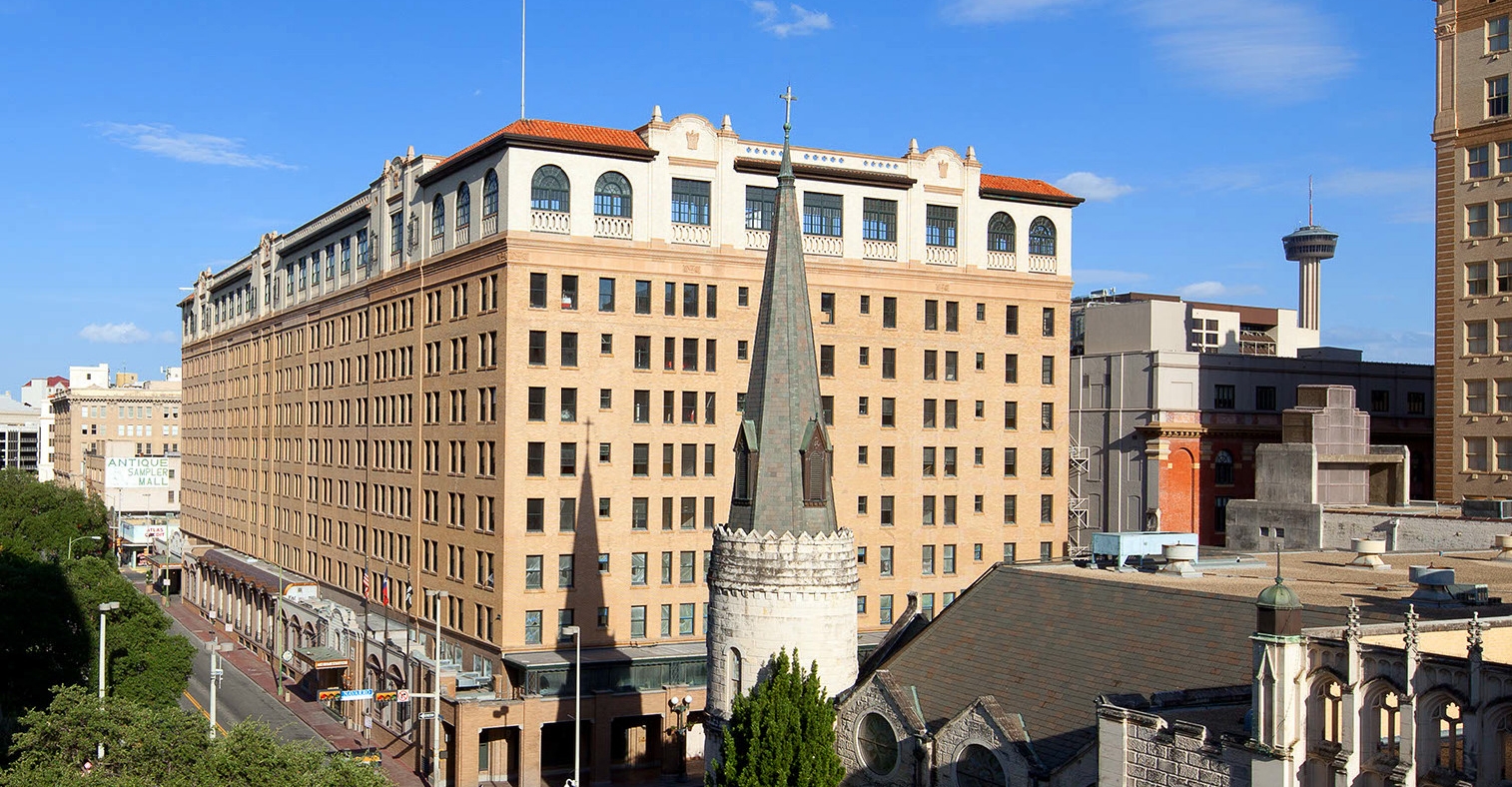 Relive the History
The St. Anthony Hotel is a San Antonio landmark built on over 100 years of glamour, tradition and memories. Thousands of people have passed through the storied halls of The St. Anthony, including politicians, princesses and a-list celebrities, but our most treasured of stories are the ones told by you, our past guests.
A Dream Come True
Gene & Carrie Gloria
I started working at the St. Anthony Hotel at the age of 13. My sister announced to our parents that I was getting married, so my father told me that it was time to get a job. I argued that I wanted to go to school instead, but he insisted that the family needed the financial assistance. I started my career in 1957 as a bus girl in the Madrid room and was then promoted to an elevator operator. The uniform was a green dress with a long-sleeved jacket for winter and a short-sleeved jacket for summer, and green penny loafers. I had to manually close the doors and stop on each floor. I often had to argue with guests who had too much to drink and insisted on riding the elevator.
My friend, Eddie Gloria, was a bellman and always walked me to my bus stop. One evening, Eddies' cousin Gene was home on leave from the Navy. He was driving by the hotel when he spotted Eddie with a good-looking girl. He invited us to go driving around. The next day, I told Eddie that I was going to be a Gloria one day. He thought I was finally thinking of being HIS girlfriend until I told him that he should give Gene my phone number and that I was going to marry Gene one day. My dream came true and we've been married for 51 years! The St. Anthony lost an elevator girl when we married in 1961.
Young Newlyweds
Looking back, my husband and I were so very young when we married in 1984. He was 19 and I was 18. We were both college students who had been high school sweethearts. This was before the days of the internet, so we really didn't know much about the St. Anthony when we departed our reception and drove off to our new life. When we arrived to valet park, we both were so amazed. Neither of us had been anywhere so lovely and magical as the St. Anthony in our young lives, and, needless to say, had never valet parked!!
I remember walking through the hotel and Peacock Alley, and thinking I was in a dream. The hotel was overwhelmingly beautiful, and our room was so incredible. The hotel sent us a bottle of champagne as a welcome gift, and I still have the bottle (empty, of course) in my wine rack. I found the receipt for our honeymoon, and the total for our three night stay was $170! Thank you, St. Anthony, for still providing everyone a magical and amazing place!
- Tracy Carver
Helped the Duke Escape the Press
Happy Shahan used to say that he and John Wayne were at the hotel during some political rally or convention that both were supporting – not Alamo movie related. They were up in Wayne's room and in a hurry to go across town to an event. A hotel employee came to the door and warned them that the word had gotten out and a crowd had gathered in the lobby to meet John Wayne as he came through. "We can't get tied up with that!" bellowed Wayne and asked if there were any other way they could get out without using the elevator or stairs to the lobby. "The laundry chute," answered the helpful employee. So John Wayne and Happy Shahan slid down the laundry chute and made their getaway without a hitch.
-Rich Curilla
Lived at The St. Anthony for $7 a Day
At the time that I lived in the St. Anthony for 12 years, I was traveling all over the U.S.A., Canada, Mexico and Central America. I stayed in some of the most famous hotels, but none compared to our St. Anthony Hotel. At the time, I paid only $7 per day to live at the St. Anthony. From Jack Hamilton, the hotel's General Manager, to every person working in the hotel, all the staff always made me feel at home.
- Bert Reyes
St. Anthony Club President 1968-1985
In 1959, Mr. R.W. Morrison decided that San Antonio needed a private club, so he hired Dorothy Draper, a trendy designer from New York City, to design the St. Anthony Club. It was designed with a Pub and great bar stools in front. Pub tables were scattered around the room. It was a very popular gathering place for lunch for downtown businessmen.
The formal dining room was designed with changeable wall covering – gold brocade fabric for winter and pink, yellow or green silk in other times of year. The St. Anthony base plates matched the wall covering and had a gold "A" in the center. On the west wall, there was a mural that also changed with the seasons – a babbling brook in spring and a snow scene in winter. There was a dance floor across the room with a fence to separate it from the dining room. Drapes accented the metal lemon trees (art deco pieces) on the wall.
The club featured a live band each evening. These bands generally played nightly for 4 months and then rotated. One of the "house bands" was the Dick Barlow band. The conductor announced the band exactly the same way each evening, "Good evening ladies and gentlemen, welcome to the beautiful St. Anthony Club. I am Dick Barlow and I will be your musical host for the evening. We have Bill Reeves on bass and the very talented Jess Jones on the drums, along with Sir Patrick Riley on bass. We will be playing your favorite tunes this evening and, should you have a favorite song, we'd be most happy to play it for you."
Some of the notable St. Anthony Club guests include President LBJ and Lady Bird, Marlin Brando and John Wayne.
- Harold & Bennie Reisner